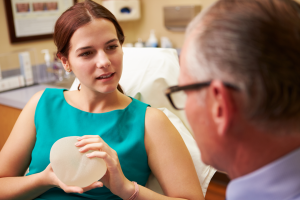 You know you aren't happy with the appearance of your breasts, but do you know exactly how you want to change them? You can't begin planning the outcome of your breast enhancement surgery until you have met with your surgeon for a consultation.
There are many important questions to ask during your consultation, like asking your surgeon for his qualifications and surgical techniques. Don't forget to ask to see before-and-after pictures, either. These pictures offer an important window of insight into your surgeon's skills, capabilities, and past patient success.
Before-and-After Pictures Show Quality of Work
A talented writer wouldn't hesitate to share his books, and a talented artist wouldn't refuse to display his paintings, so it stands to reason that an adept surgeon will share before-and-after pictures from past patients.
If your surgeon is not willing to share pictures during your consultation, consider it a red flag that he does not have the capabilities you are looking for. If your surgeon does offer pictures, look at them carefully to get a better understanding of his or her quality of work.
Do the "after" pictures show breasts in the shape, size, and position that you would be happy with? Do you notice any characteristics – good or bad – that you want to discuss before moving forward?
Look For the Types of Surgeries Completed
You know you want a plastic surgeon who has completed hundreds (or thousands!) of breast augmentations. Use the before-and-after pictures to gain a better understanding of your surgeon's niche. If the majority of his "after" pictures focus on the face or body, then breast augmentation surgery might not be his area of expertise.
Make Sure Your Surgeon Will Deliver the Results You Want
More than anything else, asking to see before-and-after pictures gives you the visuals you need to make an informed decision based on past results. The right plastic surgeon will provide pictures that make you think, "Yes! That's what I want!"
When you visit Landon Plastic Surgery, leading Tampa plastic surgeon Dr. Landon can show you a wide range of before-and-after pictures to help you appreciate his quality of work and identify the type of results you hope to see after your own surgery.
Call (813) 404-3380 to schedule your consultation with Dr. Landon today.