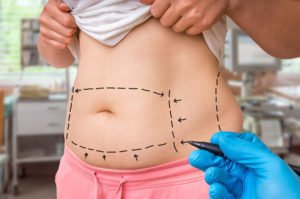 Burning off unwanted fat isn't easy, especially in trouble spots like the abdomen, love handles, buttocks, and arms. Even with a healthy diet and regular exercise, you might be struggling to contour your body. Fortunately, a treatment like liposuction can help.
Liposuction slims and reshapes specific areas of your body by removing excess fat deposits. As with any type of cosmetic surgery, your preparation will help you procedure and recovery go as smoothly as possible. Make sure you follow these liposuction preparation tips to get the most from your procedure.
One Week Before Liposuction
The week before your liposuction surgery is the best time to arrange for your care the day of and week following your procedure. First, stock up on the items you will need to stay comfortable and healthy, including antibacterial soap, comfortable clothes, books and movies, and low sodium foods that minimize fluid retention. Second, make sure you have selected a friend or family member to accompany you to your surgery and drive you back home.
You may also need to make slight changes to your routines and habits before your surgery day arrives:
Stop shaving the treated area to reduce risk of infection
Swap any alcohol with water to help your body promote healing and minimize bruising
Stop smoking since nicotine prolongs recovery and increases post-surgical risks
Stop taking aspirin or ibuprofen since they interfere with the body's blood clotting
Stop taking herbal supplements since they can negatively interact with anesthesia
The Night Before Liposuction
On the eve of your liposuction procedure, make sure to take a thorough shower and stop eating for the eight hours preceding your appointment. Don't even chew gum or sip water! Your system needs to be completely empty for your own safety. Just get a good night's sleep and look forward to the procedure that will change your body.
The Day of Liposuction
Now that your big day has arrived, remember to avoid all fluids and foods. Keep your routine simple in the morning by avoiding all makeup, jewelry, contact lenses, hairpins, lotions, and nail polish. Simply put on loose, comfortable clothing and head to your plastic surgeon's office.
With the right preparation and talented plastic surgeon, you can use your liposuction to achieve and maintain a slimmer, more contoured appearance. Tampa plastic surgeon Dr. Landon of Landon Plastic Surgery has years of experience safely and effectively using liposuction to help men and women sculpt their ideal figures.
Call (813) 404-3380 today to schedule your consultation at Landon Plastic Surgery.