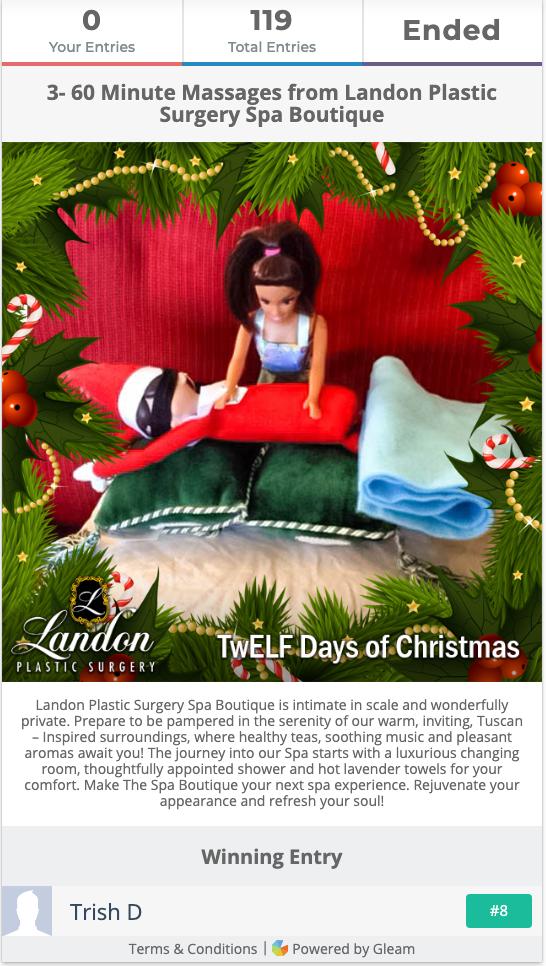 Prize: 3 Massages from Landon Plastic Surgery
1813 Wellness Lane
Trinity, FL 34655
Additional Rules:
This giveaway is non-transferable, non-refundable and not to be exchanged for cash.
Item depicted with Elf may not be exact item.
Winner must consent to photo on social media and Landon Plastic Surgery Website.
All winners are chosen randomly by a third party.
Eligibility: Legal residents of the United States (50 states and District of Columbia, but specifically excluding the territory of Puerto Rico) who are aged eighteen (18) and over as of the date of entry except for the child's giveaway.
The images used in these posts are found from different sources on the Internet, and are assumed to be in public domain and are displayed under the fair use principle.
Landon Plastic Surgery and Dr Bruce Landon do not endorse any of the products during the TwELF Day of Christmas and will not be held liable.
The winner will be randomly chosen. The winner will be announced on December 12th, 2016 at 6pm on Facebook and on the Landon Plastic Surgery website.
General Rules: During the 12 days of the giveaway, a different item will be available and contestants can enter by completing the survey. Each item for the giveaway will run for approximately 2 days from 8am est through 6pm and will be announced via Facebook and patient resources
*This promotion is in no way sponsored, endorsed or administered by, or associated with Facebook or the makers of each promotional items. You understand that you are providing your information to the owners of Landon Plastic Surgery, this Facebook page and not to Facebook.