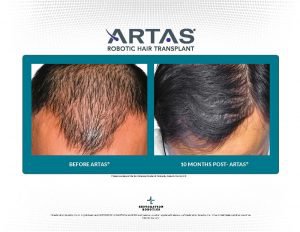 Hair loss is one of the most common side effects of aging for men and women alike. While most men cope with male pattern baldness that deteriorates hair follicles on the top and front of the head, women experience thinning at the hairline behind the bangs. Both of these conditions are frustrating, especially since there are so few products and techniques on the market that truly solve the problem. The creams and pills advertised for hair loss rarely work effectively and instead just cause unpleasant side effects. Fortunately, there is now a new technology called the ARTAS Robotic System that is completely revolutionizing hair transplant restoration.
Restore Your Hair the Natural Way
The ARTAS Robotic System is an FDA-approved hair restoration technology that resolves hair loss in a way that nothing else can. Forget the creams, pills, and questionable scalp treatments. This is a minimally invasive and virtually painless option that harnesses the precision of robotic technology to complete a manual hair transplant without any of the guesswork and fatigue that occurs during manual procedures.
First, you will enjoy using the ARTAS Hair Studio to see a 3-D customized image of your future hair transplant. You can work with your doctor to adjust your results and plan the ultimate outcome of your procedure. At that point, the ARTAS system uses specialized technology to carefully analyze your hair and identify the exact hairs that need to be harvested for the transplant. They will be picked with robotic accuracy to ensure that your donor hair area retains its natural appearance. This means you won't have to walk around for weeks or months with a strip of hair missing from the back of your head!
Finally, the ARTAS Robotic System works with your doctor's guidance to transplant healthy donor hairs into your thinning zones. Over the next six months, these hairs will grow naturally to create a thicker head of hair. This isn't a temporary solution, but quite the opposite; you will enjoy hair growth for years to come that makes you feel younger and more confident.
Dr. Landon at Landon Plastic Surgery in Tampa and Trinity, Florida is a leading Tampa Plastic Surgeon and proud to pioneer this innovative technology. He has become an ARTAS expert and is eager to eliminate hair loss for all of his male and female patients. Give us a call today at (813) 404-3380 to start your journey toward a naturally thick head of hair!