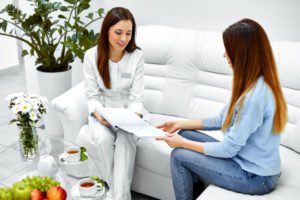 Just like buying a car or finding a new house, undergoing plastic surgery is a serious decision that requires preparation. The skills and expertise of your plastic surgeon will heavily influence the outcome of your surgery, so you need to use your consultation to ask all of the right questions. The following list of consultation questions will help you lay the foundation for a successful and rewarding plastic surgery experience.
Are You Board Certified in Plastic Surgery?
A Board Certification is more than just a title. It is clear proof that your surgeon went far above and beyond the minimum competency requirements needed to practice medicine. A Board Certified plastic surgeon has received extra education and training in a specific medical specialty, passed a rigorous testing and peer evaluation process, and continually demonstrates a rigorous commitment to lifelong learning.
Take the time during your initial consultation to ask your potential plastic surgeon if he is board certified and discuss his experiences. You may learn something valuable that helps you trust his judgment.
How Often Do You Perform This Procedure?
Whether you want a breast augmentation, a face lift, a tummy tuck, or anything in between, you want to know that your plastic surgeon has completed the procedure many times in the past. Your consultation is the best time to learn more about your surgeon's most and least common procedures. This will help you ensure that your surgeon has the experience and confidence to deliver the outcomes you seek.
What Will Recovery Be Like?
It's easy to focus on the procedure itself and the results it will achieve, but don't forget to properly consider your recovery period. Every surgical procedure has its own recovery timeline, so it's important to establish whether you will need two days off of work or two weeks. Will you need a family member to watch your children? Will pain medicine be required? Learn as much as possible about post-surgery expectations during your consultation.
What Anesthesia Will Be Used?
Most plastic surgery procedures involve anesthesia to numb the pain, so it's very important for you to know whether your surgeon will use general anesthesia, IV sedation, or local anesthetic during your treatment. The anesthesia used will determine if you need somebody to drive you home after your surgery. It will also influence how you feel in the hours and days following your procedure.
At Landon Plastic Surgery in Tampa and Trinity, Florida, Dr. Bruce Landon offers consultations to answer all of his patients' questions and make the plastic surgery process seamless. Call (813) 404-3380 to schedule your Tampa Plastic Surgery consultation and take one step closer to your ideal image.