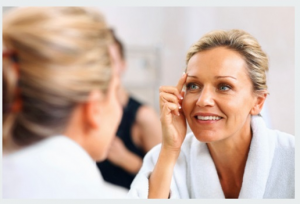 As the summer winds down, many people are looking in the mirror to discover that their fun in the sun made more than just memories. Extensive sun exposure, especially in areas of Florida like Tampa and Trinity, often leads to photodamage on the skin. Fortunately, you aren't forced to endure signs of sun damage like fine lines, wrinkles, and discoloration all fall and winter. A procedure like laser skin resurfacing has the power to dramatically improve photodamage and help you restore your bright, vibrant, healthy complexion once again.
What is Laser Skin Resurfacing?
This innovative treatment uses a CO2 laser to vaporize the upper layers of the skin. The depth of the resurfacing increases with each pass of the laser, and the total depth treated can be customized based upon your personal skincare needs. If you are only targeting fine lines and color improvement, then your Tampa laser skin resurfacing treatment will likely be mild and shallow. However, coarse wrinkles and advanced sun damage require a more aggressive treatment that might be split into multiple stages to minimize the side effects associated with aggressive resurfacing.
What is the Treatment Like? How Quickly Do the Results Appear?
It's important to note that this procedure needs to be performed under anesthesia, either with intravenous sedation or general anesthesia. Smaller areas of resurfacing only take about 15 minutes to complete, while the full face takes about 45 minutes. After such a quick treatment, the skin needs four to eight days to regenerate and show results. Ice packs, cooling gels, and other tools can be applied judiciously in order to minimize inflammation and redness during recovery.
Thanks to this non-ablative technology, laser skin resurfacing can even be used on other parts of the body such as the neck, chest, arms, and hands. Any place that sun damage has diminished your skin's natural vibrancy, laser resurfacing can reverse signs of damage and restore skin health.
Landon Plastic Surgery offers customized laser skin resurfacing treatments to all patients in the Tampa and Trinity, Florida areas. Resurfacing can be performed as a standalone procedure or in conjunction with other facial surgery to give you the results you truly want. Call (813) 404-3380 to schedule your appointment with a Tampa Plastic Surgeon today.