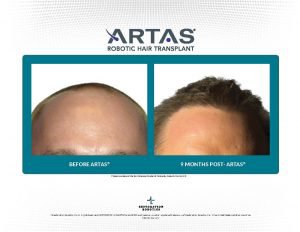 Just like you don't want to wait until your car dies on the highway to buy a new engine, you also don't want to wait until you're nearly bald to start tackling your hair loss. Though baldness is commonly associated with aging, the truth is that men can start experiencing hair loss as early as their twenties. Rather than waiting for the inevitable to occur, why not invest in hair restoration immediately? Thanks to the ground-breaking ARTAS Robotic System, hair loss is now easier to permanently reverse than ever before.
Time Is On Your Side
The ARTAS Robotic Hair Restoration System achieves its success by removing healthy hair follicles from a "donor area" on your head and implanting them into your thinning and balding areas. The earlier in your life that you undergo hair restoration, the healthier and more extensive your donor area will be. Since transplanted hair continues to grow exactly as it did before it was removed from the donor area, you will enjoy the most impressive results if your donor hairs are vibrant and strong.
Eliminate Embarrassment
Many men feel embarrassed and ashamed of their thinning and balding hair, especially when it begins to impact their overall appearance. You don't need to spend years wearing hats and hoods to hide your male pattern baldness. Instead, by turning to Landon Plastic Surgery for a Tampa Hair Restoration procedure early in your balding process, you can take proactive measures to resolve your hair loss. You'll work with Dr. Landon to develop an aesthetic design using the innovative ARTAS Hair Studio Technology. Based on your hair type, facial features, and overall goals, Dr. Landon will create your new hairline and help thinning areas become fuller and thicker.
Regardless of your age, the ARTAS Robotic System is the ultimate way to achieve newly transplanted hair that grows steadily over time. The majority of our Tampa hair restoration patients notice significant hair growth after about six months! Call (813) 404-3380 today to schedule your consultation with our Plastic Surgeon in Tampa or Trinity, Florida. Why accept baldness if you don't have to?