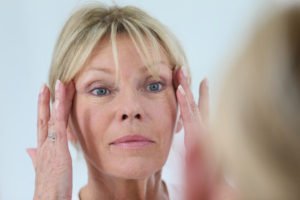 No signs of aging are quite as hated or widespread as wrinkles. Whether they are around your eyes, across your forehead, or encircling your nose and mouth, you don't want wrinkles taking over your appearance and causing you to look older than you feel. This is exactly why dermal fillers have surged in popularity over the years.
Dermal fillers are temporary injectables that make it possible to eliminate wrinkles for months or even years! Each dermal filler currently available, like Juvederm, Radiesse, and Restylane, uses a unique formula to achieve beautiful results. By working with your plastic surgeon to discuss your options, you can select the dermal filler to wipe away your wrinkles and folds instantly.
Juvederm Ultra Plus
This FDA-approved dermal filler uses a hyaluronic acid gel to instantly reverse deep wrinkles and facial folds. By providing the body with hyaluronic acid, something it already contains and relies heavily upon for healthy skin, Juvéderm Ultra Plus fills in deep wrinkles with new volume and sets the stage for a new and improved appearance. If you have significant nasolabial folds and wrinkles on the corners of your mouth, this is an excellent dermal filler choice since Ultra's larger hyaluronic acid particle size can sustain dramatic results for a longer period of time while still remaining soft and moldable to your facial contours.
Sculptra
Rather than providing immediate results that run the risk of looking unnatural, Sculptra works by gradually and subtly adding volume to the face to eliminate signs of aging. It brands itself as a long lasting solution rather than an overnight miracle, because its main ingredient PLLA actually replaces lost collagen to heal the skin from the inside out. You can use Sculptra to fill folds that run from the mouth to nose. As extra volume develops, it fills in your most bothersome wrinkles to achieve smooth skin.
Radiesse
Radiesse is most well-known for its ability to make wrinkles and folds disappear. It does so using CaHA microspheres that are suspended in a gel carrier. Once injected into the face, Radiesse immediately provides the facial volume that is commonly lost with age, thus eliminating unwanted signs of aging such as chin wrinkles, marionette lines, and smile lines.
Restylane Refyne
This next-generation hyaluronic acid filler helps to soften fine to moderate lines, such as the laugh and "smoker's" lines. Results last up to 12 months! Restylane Refyne is so unique because it is designed to flex within the skin in order to support your face's natural expressions when you smile, frown, or even pucker up! This product literally "moves with you" so that the results look natural both at rest and when you animate. Your results will never look stiff or unnatural.
At Landon Plastic Surgery, Dr. Bruce Landon, a leading Tampa Plastic Surgeon, and his experienced team will help you select the dermal filler best suited to meet your needs. In just one quick treatment, you will be able to return to your normal activities and enjoy long-term results that help you look and feel years younger. Call (813) 404-3380 to make your appointment now!