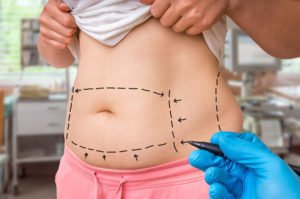 Body contouring encompasses a large amount of cosmetic surgery procedures. There are many different reasons that you might undergo body contouring, but the most common reasons are weight loss and childbirth. Learn more about what body contouring is and how it can benefit you.
What is Body Contouring?
Body contouring is any cosmetic surgical procedure or set of procedures that removes excess skin and fat to contour or shape the body into a more ideal form. There are several different types of body contouring surgery, including:
Arm lift
Breast lift
Tummy tuck
Butt lift
Thigh lift
You can also have excess skin or fat removed from other areas of the body if necessary. In certain circumstances, you may need body contouring on areas such as the hips, ankles, calves, or back as well.
After Weight Loss
The most common reason for body contouring is weight loss. Often, if you have significant weight loss of 100 pounds or more, you have excess skin and tissue that causes flabs even though the weight is gone. In order to fully benefit from your weight loss and have a better self-image, body contouring is necessary to reinforce the healthy tissue and muscle and remove the excess skin that is no longer needed. Many people undergo body contouring after significant weight loss. In fact, Roseanne Barr had body contouring after her weight loss.
After Pregnancy and Childbirth
The other common reason for body contouring is pregnancy and childbirth. Bearing children can wreak havoc on your body. It can be impossible to get your breasts and tummy back into the shape and firmness that they once were. Body contouring after pregnancy is often called a Mommy Makeover or Tummy Tuck. It may include any of the same procedures that are often used for weight loss body contouring. Some famous celebrities who are reported to have had body contouring after childbirth include Angelina Jolie, Mariah Carey, and Brittany Spears.
If you have excess skin or fat that needs to be removed after weight loss or pregnancy, contact us at our Tampa Plastic Surgery practice today for a consultation by calling (813) 404-3380. We can discuss your options for body contouring and develop a treatment plan specific to your goals.