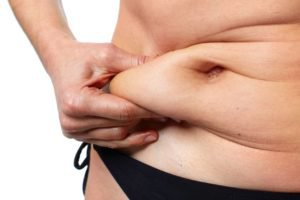 Losing a significant amount of weight is an enormous accomplishment, but it can leave you facing the issue of loose and sagging skin. Even safe and gradual weight loss can cause your body to feel like a deflated balloon. For many men and women, this creates an entirely new but equally as frustrating problem as carrying too much weight. Fortunately, there are many different body contouring options available to remove that excess skin and tone and tighten your body to create the appearance you envisioned.
Tummy Tuck
Also known as abdominoplasty, a tummy tuck flattens and contours the abdomen by removing excess fat and skin from the area. It's also possible for the muscles in the abdominal wall to be tightened during this plastic surgery procedure. Under general anesthesia, excess skin is cut away, extra fat is removed with liposuction, and abdominal muscles are pulled into a tighter position. This is an excellent body contouring option if your dramatic weight loss has left your excess stomach skin hanging and sagging.
Arm Lift
Excess skin becomes very noticeable on the upper arms after weight loss, especially when you lift your arm to wave. All you need to help eliminate sagging skin is an upper arm lift, also known as a brachioplasty. This procedure is designed to lift and tighten loose arm skin and help you wave without the dreaded jiggle. During surgery, your Tampa Body Contouring specialist will remove excess skin and tissue in small sections, then use liposuction technology to smooth away lumps and bumps.
Thigh Lift
The thigh lift has become an increasingly popular body contouring procedure to slim and shape the loose inner thigh skin. The principal areas of skin removal include the groin crease for a transverse lift, the inner thigh for a vertical lift, or a combination of both incisions. You can expect to see your slimmer, shapely thighs in their final contour after 4 to 6 months.
VASERlipo®
VASERlipo utilizes ultrasound frequency energy to remove stubborn fat that remains after you have achieved your weight loss goal. VASERlipo is a customizable body sculptor, it eliminates fat exactly where you need it to. Better yet, it manages to contour your body and smooth your skin in just one minimally invasive procedure.
To contour your body after weight loss, call (813) 404-3380 to schedule your consultation at Landon Plastic Surgery in Tampa or Trinity, Florida. Dr. Landon, a top Tampa Plastic Surgeon, and the entire staff are dedicated to providing personalized attention before, during and after surgery to achieve the results of your dreams.