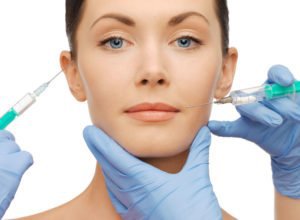 The Internet is filled with misinformation and myths, especially about cosmetic treatments. Does Botox freeze your face, or not? Will injectables really give you duck lips? You can't make an informed decision about your cosmetic choices without the correct information at your fingertips, so it's time to bust these 4 dermal filler myths.
Myth #1: All Areas of the Face Can Be Treated The Same
This myth needs to be debunked immediately! There are many different types of dermal fillers, and each is specifically formulated to treat a unique area of the face. Belotero, for instance, is a very delicate hyaluronic acid filler that can be injected under the thin skin below the eyes without causing a bluish hue. Juvederm products, on the other hand, are thicker and best used for deep lines and wrinkles around the nose and mouth.
Myth #2: Filler Treatments Hurt!
The concept of a dermal filler sounds like it would hurt, but most fillers now contain lidocaine, an anaesthetic that prevents pain and keeps you comfortable throughout your procedure. You can also have your injector apply a topical numbing cream about 20 minutes before your treatment to ensure that your experience is pain-free.
Myth #3: All Dermal Fillers Make Your Face Look Bloated and "Done"
Any cosmetic tool can be used improperly, but as long as you find an experienced injector who knows how to use the proper amount of filler to create your results, you never have to worry about looking overinflated.
Your friends, family, and coworkers will notice that you look healthy, youthful, and radiant, but they'll never suspect that a dermal filler is responsible.
Myth #4: Dermal Filler Results Are Permanent
The beauty of dermal fillers is that they are not permanent! Each dermal filler offers its own timeline. Some are absorbed back into your body after only six months, while some newer fillers are FDA-approved to last up to two years! This makes it possible to enjoy long-lasting results without committing to permanent changes. You can adjust your future results to fit your evolving needs.
Dermal fillers can treat your cheeks, wrinkles, hands, and even your acne scars and nose! Whatever cosmetic enhancement you want, Dr. Landon and his team of Tampa Plastic Surgeons can make it a reality. Just call (813) 404-3380 to schedule your consultation in Tampa, Florida today.