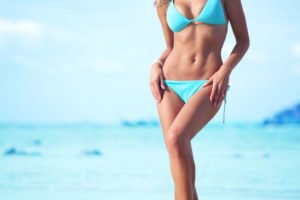 Summer is just around the corner, and you want to make sure you look and feel your best for summer outings at the beach, an afternoon at the poolside, or special events. Now is the time to think about how you want your summer body to look. Whether you want firmer breasts or a flatter stomach, summer is almost here so don't wait.
Recovery Time
Breast lifts, breast augmentations, and tummy tucks all require some recovery time. Immediately after your procedure you will have some redness and swelling, and you may be limited in the clothing you can wear at first. Most surgical procedures to get your body ready for summer have a recovery time of six to eight weeks. Ideally, you would begin working on your summer body no later than March, but it is never too late.
Boost Confidence
If you're on the fence about whether or not to have a procedure done to get your summer body, there are some excellent reasons to move forward and have a consultation. When your body's actual image matches the mental image you have for yourself, it boosts your confidence and self-esteem. You will feel better mentally and emotionally when you are happy with how your body looks in your bikini. A boost in confidence and self-esteem is often a boost in overall happiness.
Affordable and Worry-Free
A breast augmentation, tummy tuck, liposuction, and other procedures that give you your best summer body can actually be affordable. With financing available, you can easily get your summer body without a large initial investment. And, with our top rated plastic surgeons and aestheticians, you don't have to worry about what you will look like after your procedure. We make the entire process as painless and worry-free as possible.
If you are ready to get your summer body underway, contact our Tampa Plastic Surgeon practice today for a consultation by calling (813) 404-3380.