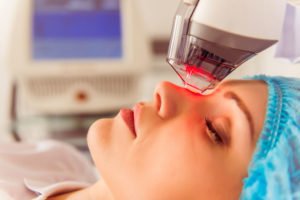 Are you unhappy with your complexion? Laser skin resurfacing is one option that you have to restore the youthful appearance of your skin. This procedure can help eliminate fine lines and moderate wrinkles, as well as tighten the skin and reverse sun damage. Before jumping in, here are the facts about laser skin resurfacing.
What is Laser Skin Resurfacing?
Laser skin resurfacing is a procedure that uses laser technology to remove the upper layers of the skin. The laser vaporizes the upper layers of the skin, promoting collagen production and new skin growth. This eliminates fine lines and facial wrinkles. It can also result in tightening of the skin in the area. The entire procedure takes about 15 minutes for one part of the face, or 45 minutes to an hour for the full face.
Two Types of Laser Skin Resurfacing
Traditional laser skin resurfacing requires you to be placed under anesthesia, either chemical or general anesthesia. The laser removes the upper layers of the skin, one layer at a time. Highly aggressive treatments are usually spaced out over the course of several days or weeks to reduce discomfort of recovery.
Fractional laser skin resurfacing is a bit different from traditional methods. Instead of physically removing the skin elements, a CO2-based platform is utilized to resurface the skin in a more natural and non-ablative way. It only requires topical local anesthetic rather than full anesthesia, and can be done on areas other than the face. Recovery time is lessened with this approach, and you maintain a healthier complexion through the healing process.
What to Expect
If you are considering laser skin resurfacing, expect a lengthy appointment. You will need either anesthesia or a local anesthetic, depending on the type of resurfacing recommended. Your first few days of recovery will involve soothing gels and moisturizers, as well as a facial mask for traditional laser skin resurfacing.
For more information about how laser skin resurfacing can help you, contact our Tampa Plastic Surgery offices for a consultation appointment.