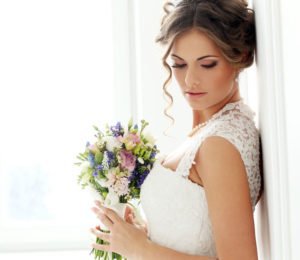 Some brides plan elaborate beach weddings, some want a rustic farm ceremony, and others elope in Vegas, but every bride shares the desire to look and feel beautiful on her special day. In addition to finding the dress and a stunning hairstyle, brides can also utilize dermal fillers to enhance their natural beauty. This wedding prep guide to dermal fillers will show you all of the easiest shortcuts to reach your own cosmetic goals before your wedding day arrives.
Fill Acne Scars
The last thing you want is to look back at your wedding pictures to see your acne scars leaping off the page. Even the most strategic makeup can't make scars disappear completely, but the right dermal filler can! Belotero, Juvederm, and Restylane are all composed with specialized ingredients that replace volume under your scars in order to push them out to make your skin look and feel smooth.
Each type of filler uses a different ingredient to make this happen. Juvederm, for example, is formulated with hyaluronic acid to restore lost volume within your scars. Results last up to one year, and often longer!
Plump Your Lips
If you want to emphasize your sexy pout on your wedding day, the right dermal filler can subtly enhance your lips so that they look plump and attractive without appearing overdone or "worked on." Many different name brands offer a filler variation formulated specifically for the lips, so you have a wide selection! Injections can be delivered gradually until you see your desired results, which gives you ultimate control over your lip volume. Hyaluronic acid-based fillers like Restylane and Juvederm are favorites because they are soft and provide natural yet sexy results.
Revive Under the Eyes
Nobody wants under-eye bags to haunt wedding day photos, but for many women not even a steady sleep schedule can erase those bags and hollows. Unfortunately, the skin around the eyes is thinner and more delicate than the skin on the rest of the face, and over time it loses its natural elasticity and firmness.
Common hyaluronic acid fillers like Juvederm and Restylane can't be utilized under such thin skin because they cause a bluish tint to show. Belotero Balance or Volbella is the best choice to combat signs of aging under the eyes because they are both incredibly gentle and thin products that integrate with the skin tissue to enhance the skin's natural structure. In just one treatment, you can completely rejuvenate your appearance!
At Landon Plastic Surgery in Tampa and Trinity, Florida, Dr. Landon and his team offer a wide range of dermal fillers to help you look your very best on your wedding day and beyond. Call (813) 404-3380 to schedule your Tampa Plastic Surgery consultation today.