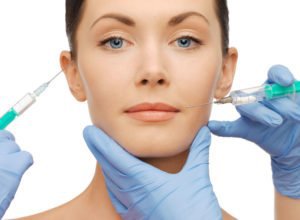 When it comes to dermal fillers, the newest line is Restylane. Restylane is a different type of filler with a different goal in mind. As you age, wrinkles and folds occur. Tightening the skin can help eliminate fine lines and wrinkles, but often the cause of them is volume loss in the cheeks and jawline. Restylane products are FDA approved to restore volume to reduce these wrinkles and folds.
There are several different products available from Restylane. Which filler you use will be based on the target area and the depth of the lines and wrinkles you wish to reduce or eliminate. Understanding the differences between the three different Restylane products will help you make an informed decision when you come in for a consultation.
Refyne
Restylane Refyne is a filler that flexes the skin to eliminate fine lines and wrinkles both when you are at rest and when you show facial expressions. The filler moves with you to allow you to fully express yourself while diminishing lines and wrinkles you don't want to show. It is most effective for moderate lines and wrinkles, and lasts for up to 12 months.
Defyne
Restylane Defyne is the latest product in the Restylane line. It is designed to restore volume where age has created volume loss around the lower cheeks. Such volume loss can cause marionette lines and laugh lines. This filler is FDA approved to restore volume to diminish these heavy lines and wrinkles so that you can show expression while enjoying the benefits of the filler.
Lyft
Restylane Lyft is similar to Defyne, in that it restores volume loss in the face to eliminate fine lines and wrinkles. The biggest difference between Restylane Lyft and Defyne is that Defyne used to treat severe smile lines while Lyft is used to treat mild to moderate lines and wrinkles.
If you are considering a filler to rejuvenate your look, contact us today for more information. At our Tampa Plastic Surgery practice, we can consult with you to learn your goals for your appearance and help you make a decision as to the right filler for you.