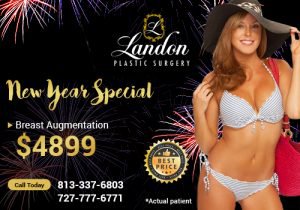 As breast augmentation continues to remain a popular plastic surgery option for women across the country, you may enter 2017 feeling determined to undergo breast augmentation yourself. And so you should! Breast augmentation offers a number of perks that make it easy to say yes to implants.
Customize Your Appearance
First and foremost, a breast augmentation can be completed in the way that best meets your vision for your new breasts. Maybe your breasts aren't as big as you'd like, or they are uneven or lack fullness. Whatever the problem, Dr. Landon can create breast implants that give you the appearance you've always wanted. Once you finally obtain breasts that better match your body and personality, you will enjoy a host of other benefits, like more confidence in your social life.
Improve Your Self Esteem
Of course, with bigger, better breasts comes a boost in your self esteem and confidence. For the first time, you will want to show off your body in a bathing suit, and you won't feel embarrassed or ashamed about the top half of your figure. Laura Kearney knows this all too well. At the age of 18, she noticed that her breasts just weren't growing anymore, but she spent the next eight years feeling unhappy with her breast size. In her words, "I felt like less of a woman," especially because of the pressures of society. Once she finally gave herself the gift of a breast augmentation, Kearney felt like a new person. "I can't believe how real, how natural they look. I can't even describe how happy I am."

Wear New Clothes
With your brand new body and your improved sense of confidence, you can enjoy a shopping spree to wear shirts and bathing suits tops that may have been unrealistic for you before augmentation. This is like the icing on top of the cake for many women who are ready to show off the results of their procedure. Schedule a free breast consultation today by calling our Tampa Plastic Surgery practice!