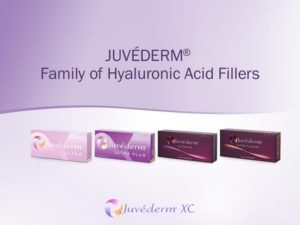 Unless you have been living on a deserted island for the past few years, you have most likely heard about dermal fillers and their cosmetic benefits like plumping lips, boosting cheek volume, and minimizing wrinkles. Dermal fillers have become some of the most popular cosmetic enhancement tools, especially since they deliver results immediately and without any need for surgery. Juvederm is one of the most popular families of dermal fillers. Made with hyaluronic acid, Juvederm products can reverse your most troublesome signs of aging in just minutes.
Juvederm Voluma Restores Age-Related Volume Loss
Juvederm Voluma is proven to add volume to correct age-related volume loss in the cheeks.  Smooth hyaluronic acid gel is injected strategically into the apex, apple, and hollow of your cheeks. The injections work immediately to boost your skin with the volume it was previously lacking and create a more youthful appearance for up to two years!
Juvederm Ultra Tackles Minor Wrinkles
Juvederm Ultra can be used to tackle early signs of aging that don't require dramatic correction. Ultra's formula utilizes finer, smaller molecules that make the gel light, silky, and gentle. This means that Juvederm Ultra is an excellent solution to correct superficial to moderate wrinkles and add subtle fullness to thin lips.
Juvederm Ultra Plus Reverses Deep Wrinkles
Juvederm Ultra Plus shares a few key similarities with Juvederm Ultra, formulated  to provide extra volume to aging skin. However, Juvederm Ultra Plus differentiates itself by offering a thicker and more stable formula created with larger molecules. This means that Juvederm Ultra Plus is injected deeper into the dermis to support significant cosmetic corrections.
Juvederm Volbella
Juvederm Volbella is FDA-approved specifically for lip augmentation and the correction of vertical lines above the lips. Its hyaluronic acid appear subtly to naturally enhance your pout and help your skin look and feel smooth once again.
Juvederm Vollure
Juvederm Vollure is the first and only hyaluronic acid filler using Vycross technology to be FDA approved for the correction of moderate to severe facial wrinkles and folds for up to 18 months. Vollure can be used to treat bothersome nasolabial folds and marionette lines. You'll forget they were ever there!
The team at Landon Plastic Surgery is located in Tampa and Trinity, Florida to help you use Juvederm to meet your unique cosmetic needs. Call   (813) 404-3380 to schedule your Tampa Plastic Surgery appointment today!