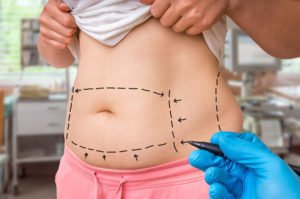 If you have been spending months or years focusing on achieving sustainable weight loss, you may have overlooked an important step that comes after shedding pounds: body contouring. Losing a significant amount of weight is an impressive accomplishment, but it leaves you with heavy, loose, excess folds of skin that need to be removed.
Fortunately, your excess skin around the stomach, arms, and thighs can be removed using body contouring procedures. This guide will help you understand how long you should wait after losing weight to schedule your body contouring appointment.
First, Make Sure You're Done Losing Weight
Our plastic surgeon will not clear you for Tampa body contouring until your weight stabilizes and you have proven you can maintain your weight long-term. If you dropped from 300 to 200 pounds, but want to continue losing weight until you are down to 150, it is best to have the patience to postpone all body contouring until reaching your ideal weight. Otherwise, you will endure your body contouring procedure only to lose more weight and have more excess skin.
Commit to a Healthy Lifestyle
You should feel proud of your weight loss and ready to commit to a healthier lifestyle. Body contouring is the final step in achieving your slimmer, thinner body image. It is important that you don't schedule your body contouring until you know you're in a place that you can commit to healthy habits.
Many patients believe that body contouring can even encourage and inspire healthy habits because procedures like the tummy tuck, arm lift, and thigh lift remove heavy, excess fat and help you see and feel the new body you're creating.
Body Contouring Options
The tummy tuck, arm lift, and thigh lift are three popular body contouring options because they shape and slim your worst trouble spots. A tummy tuck flattens the abdomen by removing excess fat and skin from the area. As long as you are within range of your ideal weight, the tummy tuck surgery is a great way to create an abdominal profile that is smoother and firmer.
An arm lift, meanwhile, is designed to remove and tighten the loose upper arm skin and underlying tissue brought on by excessive weight loss. A thigh lift does the same for the thighs. In the end, you will have more defined arms and legs that you want to flaunt.
At Landon Plastic Surgery in Tampa and Trinity, Florida, Dr. Landon has more than two decades of experience helping men and women refine and contour their bodies after weight loss. Call (813) 377-2081 to schedule your consultation with our Tampa Plastic Surgeon and get closer to the body you've been working toward.