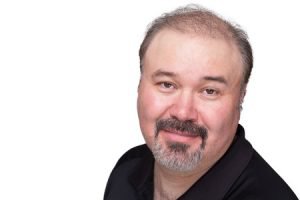 Hair loss is a frustrating yet unavoidable condition for many men, especially as they grow older. In the past, inefficient and often dangerous creams and medications were the only hair growth remedies available, but all of that has changed thanks to ARTAS Robotic Hair Restoration. If you want a achieve an attractive, natural, full head of hair, the ARTAS system is waiting for you.
Why Are You Losing Your Hair?
Research indicates that as many as 35 million men experience hair loss, with the majority experiencing significant hair loss by the age of 35. Thinning and receding hair is such a common problem due to Androgenic Alopecia, also known as male pattern baldness. This is a hereditary condition that develops when hair follicles, especially those at the front of the head, become too sensitive to a specific hormone called DHT. The DHT weakens hair follicles and causes them to deteriorate and become dormant over time. Meanwhile, the remaining hair around the sides and back of the head become thinner and weaker.
How is the ARTAS Hair Transplant Different From Other Hair Growth Treatments?
The ARTAS Robotic Hair Restoration Procedure is in a league of its own and has no other equivalent. It is a minimally-invasive hair transplant procedure that dramatically reduces downtime from an average hair transplant. No stitches are required, no linear scar is made on the back of the scalp, and cutting-edge robotic technology is used to take all human error out of the equation.
How Does the ARTAS System Work?
The first step to an ARTAS hair transplant involves using digital imaging to identify which hairs on the head are healthiest and best suited to serve as donor hairs. The robotic system harvests those hairs with complete precision while preserving the natural appearance of the donor area. Next, the sophisticated ARTAS robotic system is used with your doctor's guidance to transplant healthy hairs into your thinning areas. It's a comfortable and virtually painless process.
What Results Can You Expect?
Your permanent Tampa hair restoration procedure results will become visible within three to four months after your procedure, and the majority of growth will take place about five to eight months following your transplant. After one year, your hair will look fuller and healthier than it has in years.
Where Should You Receive Your ARTAS Hair Transplant?
Landon Plastic Surgery is one of the first Tampa plastic surgery practices to offer ARTAS Robotic Hair Transplant. Call (813) 404-3380 to schedule your consultation and learn more about the dramatic hair growth results that you can enjoy with the help of Dr. Bruce Landon and his team.