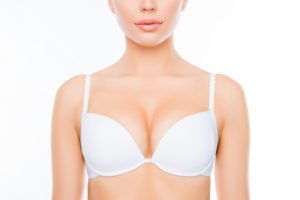 The size and shape of your breasts play an important role in your overall self-confidence and body image, so you may be considering breast augmentation as the best way to finally have breasts that you love. However, undergoing breast augmentation is not a quick or lighthearted decision; it involves many different choices that each impact the end result of your procedure.
Choosing the right size and shape of implants for your own body is a major piece of the puzzle. Here are the basics that you should keep in mind!
How Can You Size Your Augmentation?
Choosing the size of your new breasts is not as easy as selecting a bra size. How broad is your chest? What is the distance between your breasts? Will skin laxity make it difficult for breast tissue to cover your implants? All of these questions must be answered in order to select an implant size that will look and feel the way you envision.
Rather than choosing a C cup as your implant size, you will actually work with your plastic surgeon to select a certain volume measured in cubic centimeters (cc's). Keep in mind that 400cc implants can create dramatically different appearances on different women based upon their body type, breast tissue, and more. The majority of implants run between 120 cc's and 850 cc's.
Add Shape to Your Size: Round or Teardrop?
The two most common implants are round and teardrop-shaped. Round implants are symmetrical spheres that can have smooth or textured surfaces. Women select round implants because they offer lift, cleavage, and fullness to the breasts. Teardrop implants, on the other hand, have a sloped contour and texture that mimics the shape of natural breasts. Many women prefer teardrop implants because they look like a fuller version of real breasts.
Should You Choose Silicone or Saline?
In addition to size and shape, it's essential that you select an implant material. Both saline and silicone contain an outer silicone shell, but the material and consistency inside each is different. Saline implants are inserted into the body when still empty, and sterile saline water is added to the implants afterward. Silicone implants, on the other hand, are already filled with silicone gel upon insertion into the body. Since the silicone gel is a thick fluid that closely resembles human fat, many women opt for silicone implants to achieve breasts that look and feel more like natural breast tissue.
Remember that none of these decisions should be made without the guidance and input of your talented Tampa Breast Augmentation plastic surgeon. At Landon Plastic Surgery in Tampa, Florida, Dr. Bruce Landon is a leading Tampa Plastic Surgeon who offers more than 22 years of experience and training to help you achieve the breasts you have always wanted. Call (813) 404-3380 now to schedule a consultation!