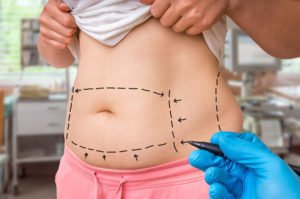 It's no secret that a tummy tuck procedure can restore the appearance of your stomach by removing saggy skin, minimizing stretch marks, and giving you a sleek, contoured appearance. But there are many other benefits of a tummy tuck that you may not have considered! From reduced lower back pain to better self confidence, a tummy tuck actually provides major benefits that will improve your overall quality of life.
What Is a Tummy Tuck?
Also known as abdominoplasty, a tummy tuck flattens the abdomen by removing the bothersome excess fat and skin that have accumulated in that area after weight loss, childbirth or general aging. This makes it possible to transform the appearance of your entire stomach region and restore a youthful, healthy appearance.
Wear Your Favorite Clothes With Confidence
In addition to the health benefits of a tummy tuck Tampa patients have said it will also help you regain your sense of self confidence. You can wear that tank top, little black dress, and bikini without every worrying about how you look or wishing you had cover-up or a baggy shirt. Imagine the freedom of going to the beach and focusing only on fun, friends, sand and sunshine, knowing that you look your very best.  
Less Lower Back Pain
A tummy tuck automatically tightens your abdominal muscles, which in turn makes your core stronger. That strength will better support your spine and help you sit and stand up straighter than you did before. No more hunching and slumping! This reduced forward pressure, combined with better spine alignment, will help you escape lower back pain and feel more comfortable in everything you do.
Increased Exercise Tolerance
Any type of intense exercise is more challenging with excess stomach skin and weak abdominal muscles. Since a tummy tuck solves both of those problems, it can help you embrace your love of running, walking, and any other aerobic activities. Of course, your increased exercise frequency will also contribute to your weight loss maintenance and boosted self esteem.
To begin your own tummy tuck journey, call (813) 404-3380 to schedule your consultation at Landon Plastic Surgery in Tampa or Trinity, Florida. Dr. Bruce Landon is a Tampa Plastic Surgeon, Board Certified in Plastic and Reconstructive Surgery and has over 22 years of experience with extensive training  to give you the best possible outcome. So why wait?